When you stay at Zion Ponderosa Ranch Resort, you are centrally located between two of the most beautiful national parks in Utah—Zion National Park and Bryce Canyon National Park. And when you unpack once and stay awhile, you can explore even more of the stunning East Zion landscape. Check out these five side trips to escape the Zion crowds, perfect for peak season visits!
Belly of the Dragon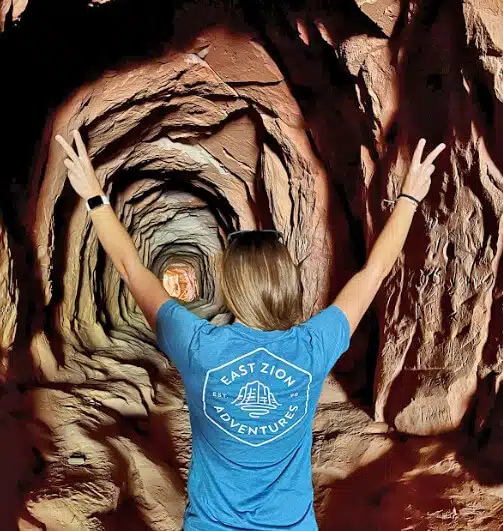 This fun, family-friendly adventure through a short, man-made tunnel was originally carved to serve as a drainage below Highway 89. Years of rainfall have carved the tunnel's sandstone walls into stunning ripples. Located between Orderville and Kanab, Belly of the Dragon is one of the fun side trips the whole family will enjoy exploring.
Moqui Sand Caves
These man-made caves were once used to mine sand to make glass. Now they are a funn little side adventure when visiting Kanab or Orderville. The short hike to the caves is easy and family-friendly, requiring just a bit of scrambling. The caves have several large openings that allow sunlight to filter in, creating the perfect setting for gorgeous photos an hour or two before sunset. The cave continues back for about 200 feet. Note: There are sheer drop-offs so keep a close eye on your kiddos. 
Cedar Breaks National Monument
Cedar Breaks is lesser-known than Bryce Canyon, but just as spectacular—and less crowded. Located in the beautiful Dixie National Forest and less than an hour and a half from Zion Ponderosa Ranch Resort, Cedar Breaks National Monument is one of the side trips from Zion that shouldn't be missed.  
Coral Pink Sand Dunes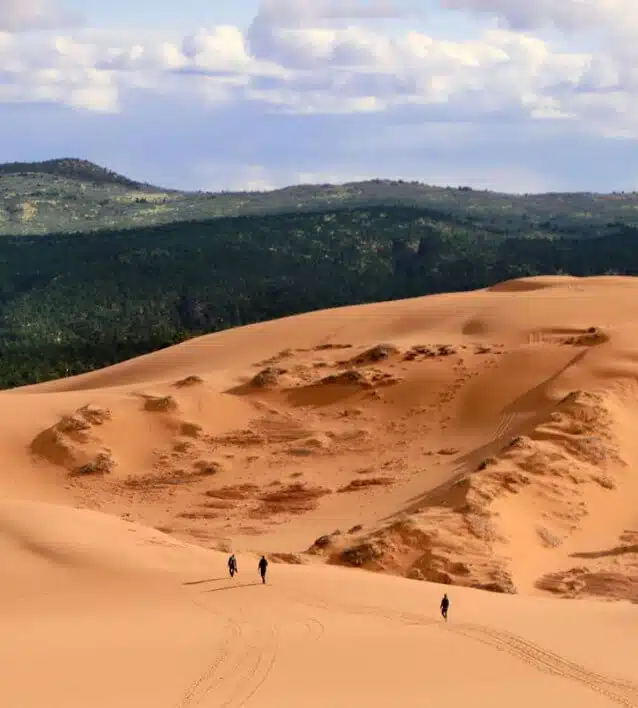 This one-of-a-kind Utah state park is a must-see while visiting Zion National Park and the surrounding East Zion area. Hike, sled, or just take your shoes off and put your toes in the sand. This incredible playground is located just 18 miles southeast of Zion Ponderosa and Zion National Park.
Cable Mountain
Looking for an off-the-beaten-path hike near Zion National Park? Look no further. Cable Mountain is an 8-mile round trip hike accessible from the Stave Spring Trailhead near Zion Ponderosa. The hike is named for the remains of an old cable system that used to transport lumber from the top of the mesa down to the bottom of Zion Canyon. From this viewpoint, you'll be able to see Observation Point and Angel's Landing as well as many other prominent features of Zion. Just another amazing adventure for when you stay at Zion Ponderosa! 
What do you think, will you be adding these side trips to your next Zion getaway? Click here to check out a few more side trips for your Southern Utah bucket list.