Zion National Park contains endless opportunities for fun and adventure, meaning there is never a shortage of incredible experiences to be had. That's why Zion Ponderosa has compiled an all-encompassing guide to the best ways to pass your time in or around Zion National Park. Whether you're an experienced outdoorsman who longs for the thrill of High Adventure activities in Zion National Park, a family looking for a Low Adventure way to connect with nature, or somewhere in between, Zion Ponderosa's Ultimate Guide of Things To Do in Zion National Park is sure to have exactly what you're looking for.
Note: This guide has been listed in order from high adventure to low adventure activities, making it easy to navigate and find the perfect Zion outing for your group.
High Adventure
Hikes
Our daily hike shuttle provides service to high-adventure hikes in and around Zion National Park like The Narrows, a 16-mile span of running water surrounded by steep cliffs up to 2,000 feet high, Angels Landing, Cable Mountain, Hidden Canyon, Observation Point, and Kolob Arch. These hiking expeditions will give you the thrill of a lifetime.
Recommended Age: 8+
Average Duration: 3.5 – 4 Hours
Unguided/Guided
Canyoneering
Zion National Park is home to premiere canyoneering, combining elements of climbing, hiking, and rappelling. Explore marvelous slot canyons carved by water and wind, such as Stone Hollow. Our experienced canyoneering guides lead full or half-day adventures, complete with gear and training. Canyoneering is one of the most exhilarating experiences of any Zion National Park activities. Book your canyoneering adventure today!
Recommended Age: 10+
Average Duration: 4 – 8 hours
Guided
RZR Rentals
Want to see breathtaking views and experience a Zion outdoor adventure without all the hiking? Sit back and enjoy the ride on a RZR. With over 200 miles of UTV trails, you can even choose to be behind the wheel! Guided UTV tours are offered from March to November. A UTV can hold up to six people.
Recommended Age: 4+ for Riders, 21+ for Drivers
Average Duration: Hourly
Guided
Scenic Helicopter Flight
A helicopter flight over Zion National Park allows you to access stunning panoramic views of the park. See places the average park-enjoyer cannot reach. Create a fun, safe, and special experience that will be remembered for years to come. 
Recommended Age: Any
Average Duration: Half-day or Full-day
Guided
Shotgun Range
For those who love the outdoors and hunting, Zion National Park shotgun range is a safe distance away from the park and provides an exhilarating experience in target practice, skeet shooting, and learning about gun safety. It's illegal for us to hunt wildlife within or near the National Park, but this way you can still get your fix of outdoor fun without breaking any laws.
Recommended Age: 12+
Average Duration: 1 Hour
Guided
Jeep Tours
Climb to heights you never reached before with Zion Ponderosa's Jeep Tours. Amazing views such as the Mountain Overlook make you feel like you are at the top of the world. Catch the best views with our most popular Jeep experiences such as the Sunset Jeep Cruise, Slot Canyon Exploration, Checkerboard Overlook Jeep Tour, Brushy Cove Jeep Tour, and Red Canyon Jeep Tour. With varying times and durations, there is sure to be a tour that is perfect for you.
Recommended Age: 2+
Average Duration: 1-2 Hours
Guided
Climbing Wall
At Zion Ponderosa Resort, our climbing wall is perfect for learning to get your feet in the right places before you go out on the real thing. Our walls rise over 40 feet high and provide a unique experience for guests of all ages and abilities. Climbers that have no experience and climbers that are very experienced will enjoy our diverse climbing walls. 
Recommended Age: 4+
Average Duration: 30 Minutes
Guided
Rappelling Lessons
Not quite ready for a canyoneering adventure yet? Learn to rappel before descending into Zion's amazing slot canyons. Zion Ponderosa offers rappelling lessons to participants and teaches basic rappelling skills, safety, and technique. Each participant has the opportunity to take 2 rappels off of the 45-foot high climbing wall. This activity is for group sizes of 1-10 people.
Recommended Age: 10+
Average Duration: 30 Minutes
Guided
Overnight Backpacking
Overnight backpacking in Zion National Park will provide you with an unforgettable experience. Exploring the area by foot allows you to journey further off the beaten path and see things that many visitors to the park never get to experience. Enjoy the peace and serenity that comes with being away from civilization. Camping near the various waterfalls, creeks, and streams will give you access to clean drinking water and some of the best scenery in the park. With its steep cliffs, dense forests, and diverse wildlife, Zion National Park is the perfect destination for a memorable backpacking trip. 
Recommended Age: 10+
Average Duration: 2-5 Days
Unguided
SWAT Shooting
If you are looking for an exhilarating shooting experience, look no further! Our SWAT Shooting Experience is ideal for both new and seasoned shooters alike. At our gun range, you will have access to the most up-to-date handguns and rifles that come with red dot optics to improve your accuracy. Our staff provides all essential safety equipment and is dedicated to customizing each session based on your level of expertise! 
Recommended Age: Ages 8+
Average Duration: 2 hours
Guided/Unguided
Medium Adventure
Hikes
​​Many of the hikes in and around Zion National Park can seem daunting or intimidating to many people who aren't used to such strenuous excursions. However, there are still many trails that are better suited for intermediate hikers. Emerald Pools, Weeping Rock, the Subway, the Great White Throne, as well as Zion Ponderosa's guided Abandoned Mine Tour are all great for any hiker who is looking for a less difficult trail.
Recommended Age: Any
Average Duration: 30 Minutes – 1.5 Hours
Guided/Unguided
Outdoor Women's Retreat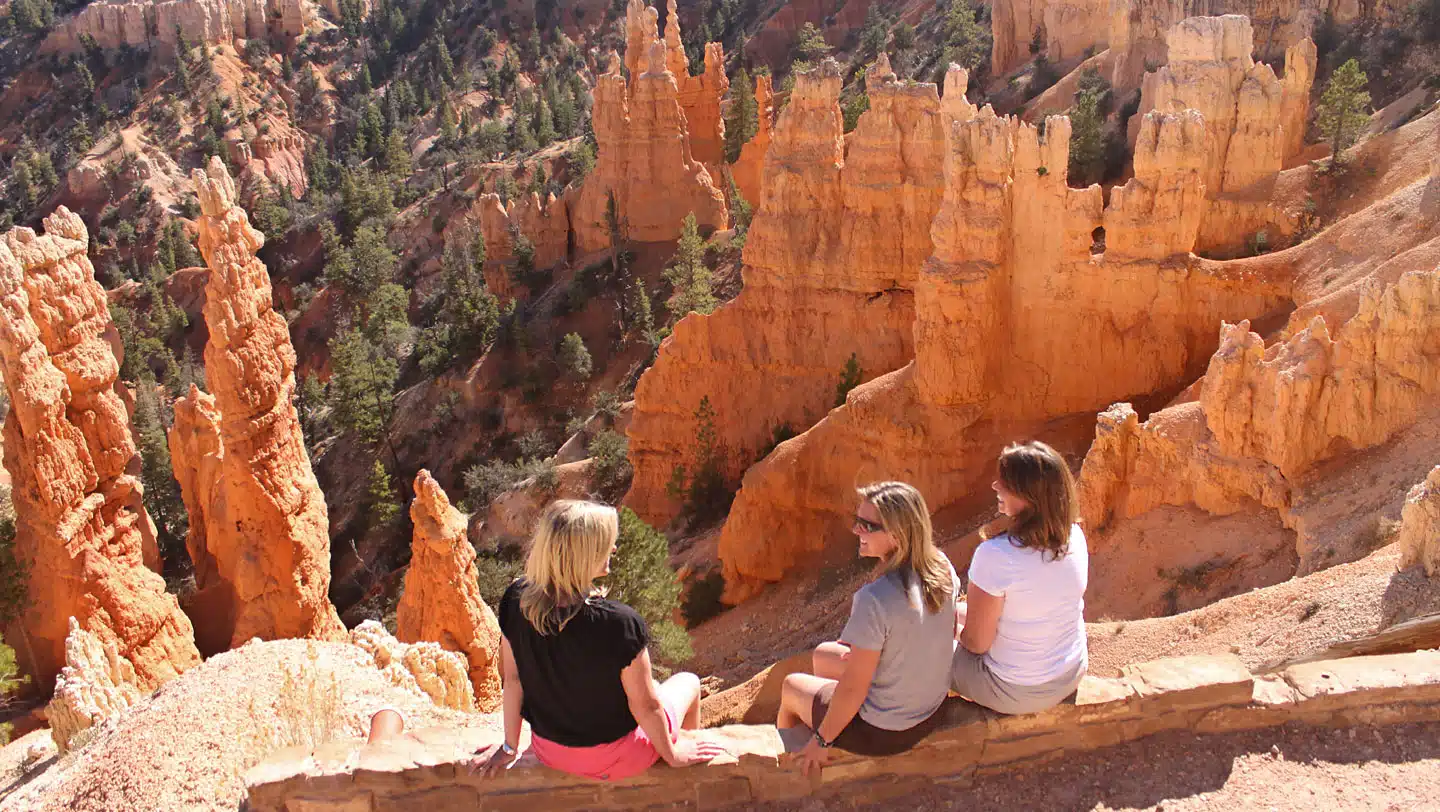 Our Outdoor Women's Retreat is one of the best things to do in Zion National Park that caters to the strengths of the women who want to be involved in everything to do with nature and the great outdoors. Zion Ponderosa Ranch has teamed up with AdventureWomen and is proud to offer a ton of different Zion activities in and around the park, from canyoneering to horseback riding. These activities are some of the best things to do at Zion National Park and we are happy to be a part of something so great!
Recommended Age: 18-65
Average Duration: 6 Days
Guided
Horseback Riding
At Zion Ponderosa, we have some of the best horseback riding trails and tours in the Zion region. We have horses that are trained and bred to match the exact style of each of our guests. We also provide smaller, more accessible horse rides for younger riders and offer a wagon ride/Dutch oven dinner that'll please your whole family.  Horseback riding has been called one of the best things to do at Zion National Park so be sure to book a ride today.
Recommended Age: All Ages
Average Duration: 1 hr- 1.5 hr
Guided
Mountain Bike Rentals
Mountain biking is a premium activity that you and your family can participate in when you come to Zion Ponderosa. You can explore over 4,000 private acres and witness the breathtaking views of Zion National Park from the east side of the park, the quieter side. Our two main trails extend in many different directions, so you will never run out of paths for you and your family to explore.
Recommended Age: 12+
Average Duration: 4 – 8 Hours
Unguided
Paintball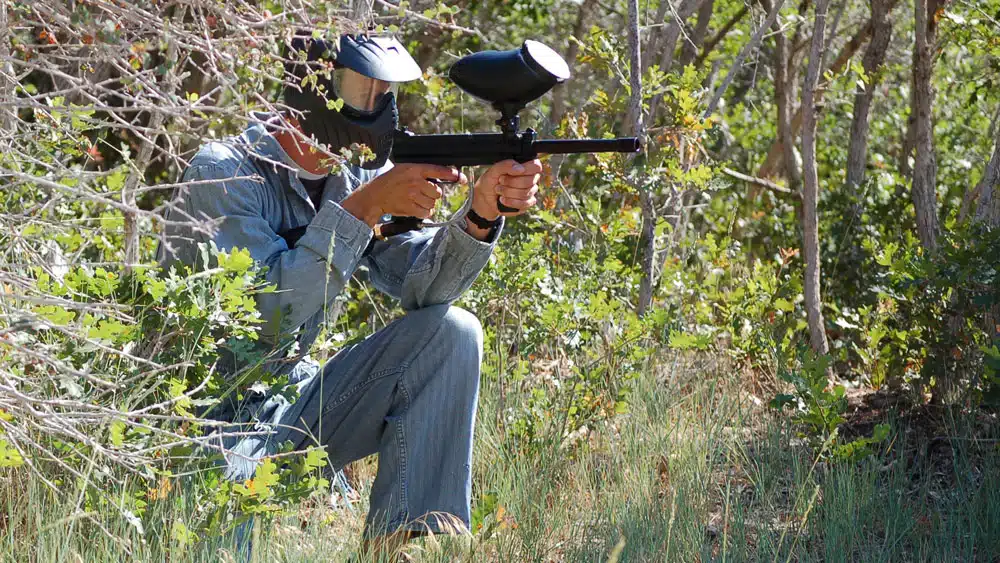 At Zion Ponderosa, our 5-acre outdoor paintball course has plenty of natural foliage as well as man-made obstacles to sneak up on your opponents. We provide a long sleeve shirt, masks, markers, and paint. Gather up 25 people and start the fun. With several sessions a day, you won't miss out on the fun. 
Recommended Age: 10+
Average Duration: 1.5 Hours
Guided
Snowshoeing
If you're looking for a fun and unique activity to do in Zion Ponderosa during the winter, then snowshoeing is exactly what you're looking for. An easy-to-learn winter sport, snowshoeing is a way to hike some of the easier trails that Zion Ponderosa has to offer. You can add this to your Zion adventures list when you come to Zion Ponderosa this winter. Snowshoes are available in most winter sports stores so they should be fairly easy to find.
Recommended Age: All Ages
Average Duration: All Day
Guided
Bungee Trampoline
If you run out of things to do in Zion National Park, grab the kids and make your way to Zion Ponderosa for their Bungee Trampoline. Our bungee trampoline is safe and easy for kids to do tricks. Our bungee cord will allow kids and people of all ages to jump high while also holding them in position. Your children will thoroughly enjoy their experience using our Bungee Trampoline and be wanting more when it's over. 
Recommended Age: 2+
Average Duration: 10 Minutes
Assisted
Wildlife Viewing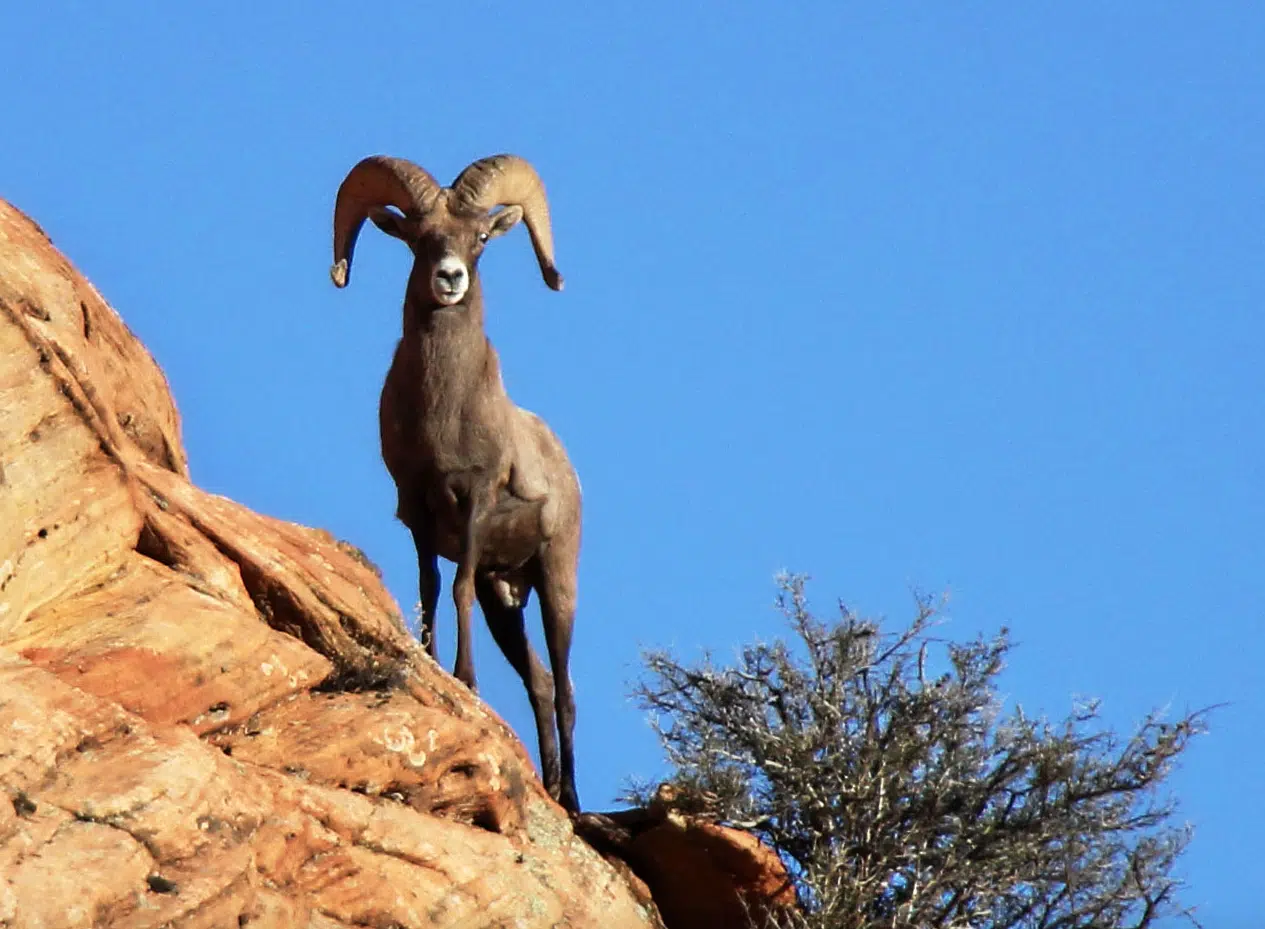 Zion Ponderosa is one of the premium places when it comes to wildlife viewing. We have a wide range of animals that you can find while you stay at our ranch. While walking our hiking trails, you may be able to see certain animals, depending upon what time of year you are visiting us. Wildlife viewing is a Zion outdoor adventure you won't soon forget!
Recommended Age: All Ages
Average Duration: All Day
Unguided
Paddleboarding
If you don't want to swim in our pool and want something more unique, then paddleboarding is the activity for you. Experience the excitement of paddleboarding in our new figure-8 pond. You can enjoy the sun and weather by doing this unique activity that is fun for the whole family.  
Recommended Age: All Ages
Average Duration: All Day
Unguided
Virtual Reality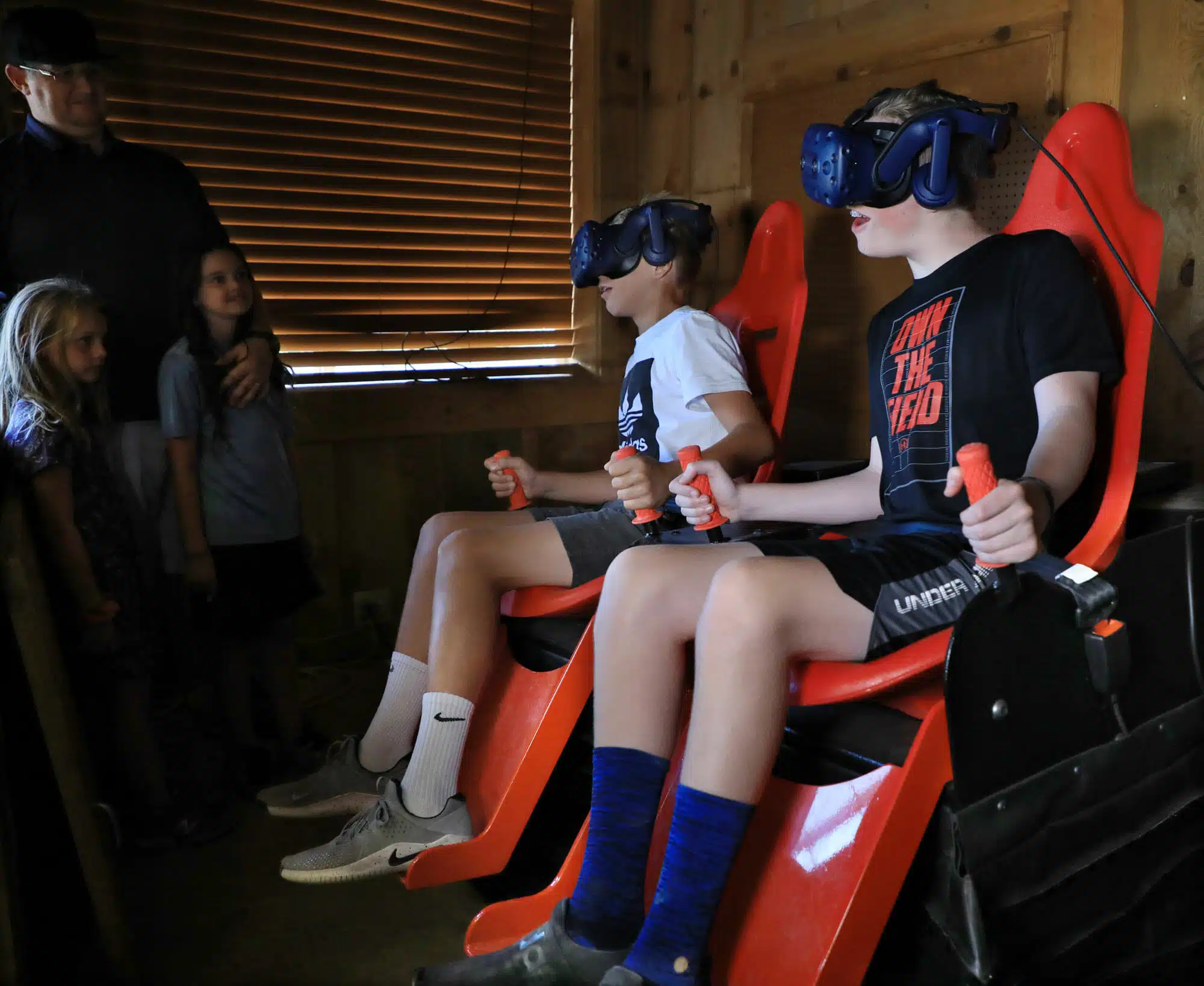 You can experience Zion in a unique way by trying our virtual reality activities. Choose either Soaring Southern Utah or Montezuma's Treasure Ride as you experience the park in a way never seen before. Virtual Reality is a unique Zion activity that you can do directly from the resort. Immerse yourself in the geology of Southern Utah and the wonders of the past through ancient caves.
Recommended Age: All Ages
Average Duration: 10 minutes
Assisted
Low Adventure
Hikes
Looking for an easy hike the whole family can handle? There are plenty of Zion National Park adventures that are perfect for any age group. The Overlook and Zion Tunnel, the Court of the Patriarchs, and the Belly of the Dragon, which is only 20 miles east of Zion National Park, are all just a short walk away from where you can park. But just because these trails aren't difficult doesn't mean they're not worth taking. These hikes feature some of the most beautiful views not just in Zion, but anywhere on Earth.
Recommended Age: Any
Average Duration: 30 Minutes
Unguided
Glamping
Want the camping experience but aren't ready to give up the comforts and amenities of modern life? Spend the night in Zion National Park in style in one of Zion Ponderosa's Glamping or Deluxe Glamping tents. Enjoy the beauty of nature while appreciating the things that make life easier for an unforgettable Zion National Park adventure.
Recommended Age: Any
Average Duration: 2-4 Nights
Unguided
Scenic Drive
Want to enjoy the views Zion National Park has to offer without going on a strenuous hike? A scenic drive around the area offers all of the beauty and visual experience without having to get out of the car. There are a number of popular scenic drives in the area that feature incredible views all from the comfort of your car.
Recommended Age: Any
Average Duration: 1 Hour
Unguided
Dining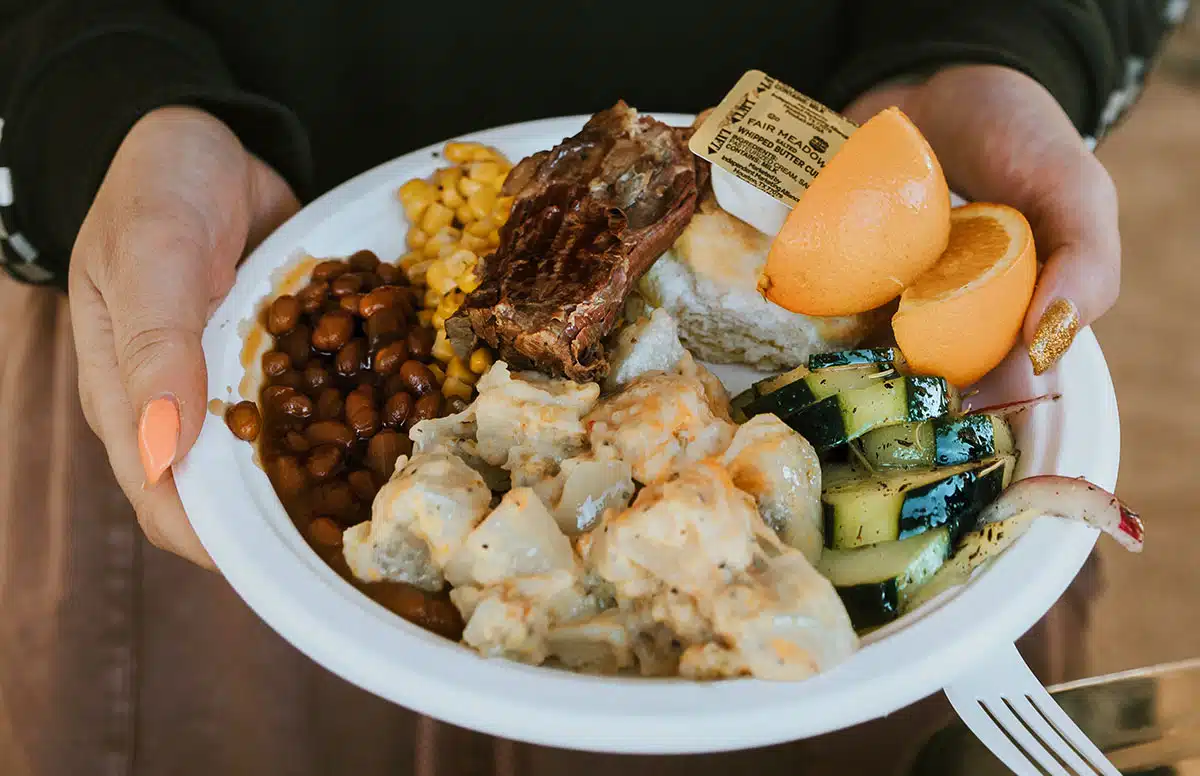 Zion Ponderosa's dining traditions go all the way back to Grandpa Ray Lewis and his belief that great food can help bring people together. Our restaurant recipes are made with fresh, local ingredients and are sure to be a favorite of everyone in the family. We also have other dining options available such as Kiki Dee's Taqueria and Ruth's Country Dinner during the summer and provide catering services for big events. 
Recommended Age: All ages
Average Duration: 1-2 hours
Assisted
Massage
Zion Ponderosa offers both Therapeutic and Relaxation massages. Both therapeutic and relaxation massages are a great way to treat sore muscles after a long and strenuous day of activities in Zion National Park and can help relieve your tensions. There's no better way to unwind than with a massage that will calm your body and mind. 
Recommended Age: 18+
Average Duration: 1 – 1.5 Hours
Unguided
Kid's Camp
In the summer season, Zion Ponderosa offers a Kid's Camp from 8 a.m. to 4 p.m. Our trained and certified counselors at the Kid's Camp will take care of your children and teach them about Zion National Park while you spend the day embarking on more difficult Zion activities. Our Kid's Camp offers both full-day and half-day packages for children aged 3-11 and is the best way to ensure you and your children get the most out of your Zion experience.
Recommended Age: 3-11
Average Duration: Half-Day or Full-Day
Guided
Mini Golf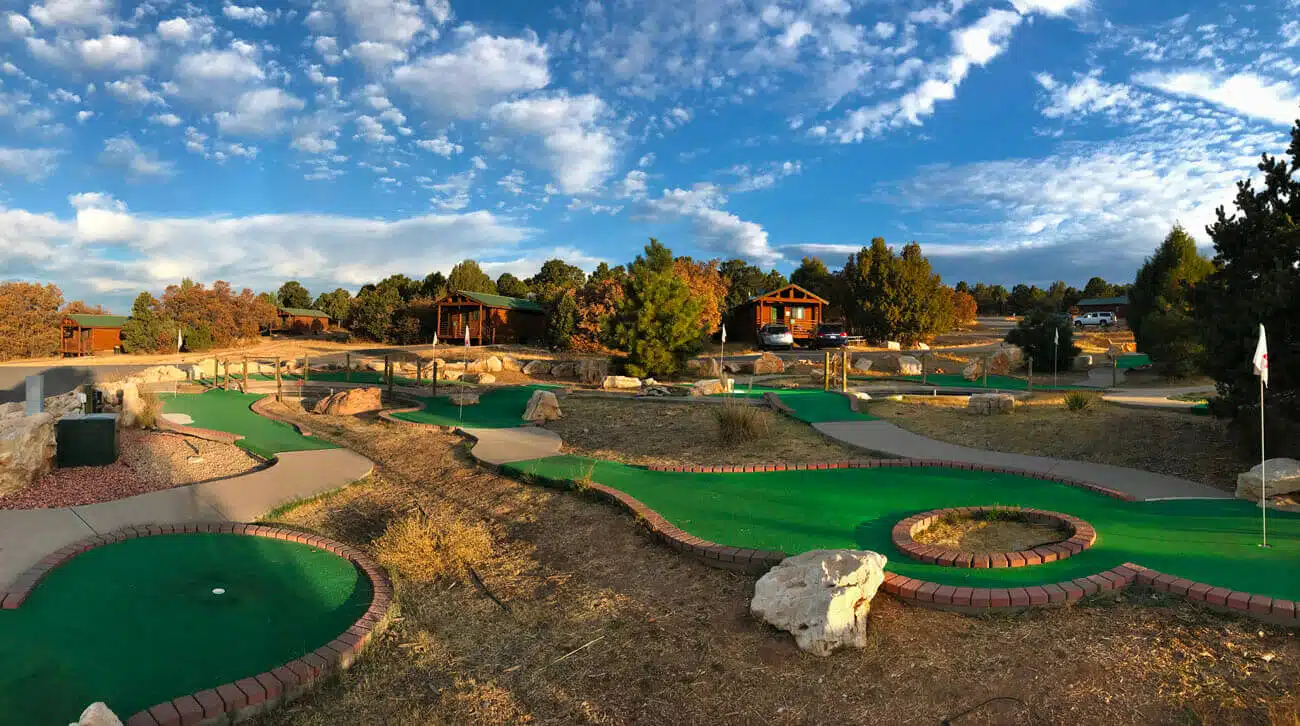 The pristine 18-hole miniature golf course at Zion Ponderosa beautifully contours with the natural terrain of Zion National Park. The course prominently features waterfalls and rock formations inspired by the stunning scenery of the surrounding area. From the youngest to the oldest, and everyone in between, mini golf is sure to be an activity that is fun for everyone.
Recommended Age: All ages
Average Duration: 1 hour
Unguided
Sunset Yoga
Zion Ponderosa's Sunset Yoga is a one-hour beginner-friendly yoga class that will help you tune into your body and breath by using a gentle flow sequence. Starting with sun salutations and basic yoga poses, we'll gradually slow down your nervous system with calming Yin postures to relax your way into the evening. Our instructor, Shea, is certified with over 200 hours of training and is the perfect person to lead you on your path to relaxation of body and mind.
Recommended Age: Any
Average Duration: 1 Hour
Guided
Riverside Walk
A stroll along the banks of the Virgin River in Zion National Park is a blissful experience. The sun-drenched scenery will captivate you with its unmatched beauty. You can hear the gentle rolling of the river and feel the cool mist that rises up from it as it cascades through majestic canyon walls. A walk along the riverside is as relaxing as it is captivating.
Recommended Age: Any
Average Duration: 1 Hour
Unguided
Take in Our Scenic Views
Zion National Park offers some of the most amazing views on the planet. Whether you're catching a glimpse of the Milky Way while star gazing or experiencing the setting Zion sun's beauty, you'll be amazed by the awe-inspiring views Zion National Park offers.
Recommended Age: Any
Average Duration: 1 Hour
Assisted
Romantic Wedding Getaway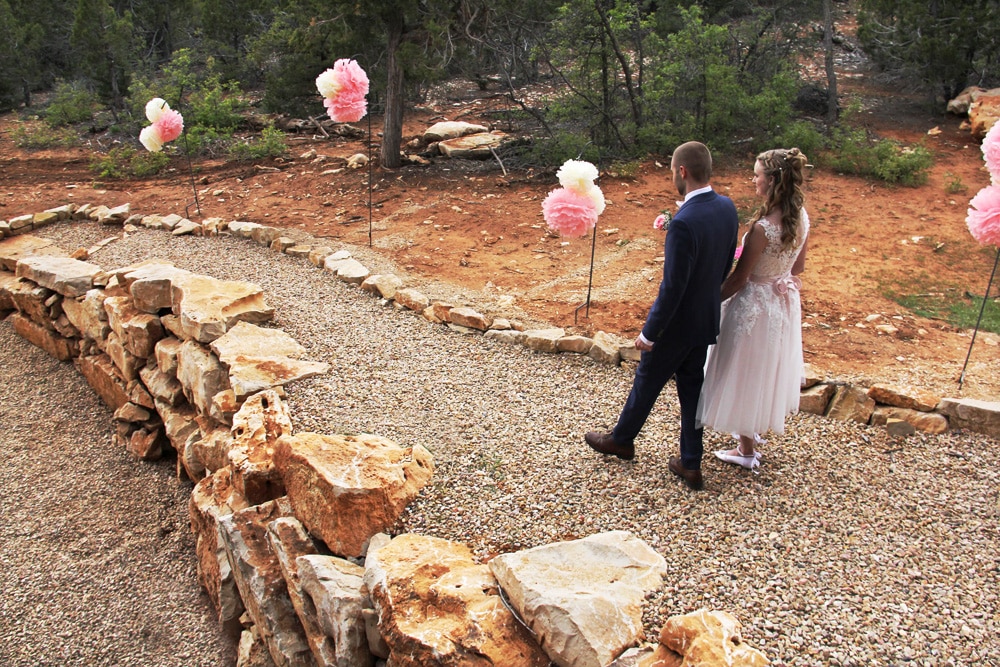 Zion Ponderosa is the perfect place to plan your dream wedding. An altogether different kind of Zion adventure than the rest of this guide details, our resort creates a very unique desert wedding experience that is the perfect place for you and your soulmate to tie the knot. With breathtaking natural views, there is no better location to say "I do."
Pool and Jacuzzi
The perfect way to relax and recover after a long day of Zion adventures is Zion Ponderosa's swimming pool and jacuzzi. Our swimming pool features a beautifully landscaped deck area and is the perfect place to sunbathe or take a refreshing dip. Our pool is open during the day and into the evening for our guests and our jacuzzi is open year-round.
Recommended Age: Any
Unguided
Tennis, Volleyball, and Basketball
Tennis, volleyball, basketball, and an assortment of other games are available daily for Zion Ponderosa's guests. They may not be the typical Zion National Park activities you think of, but playing a game of hoops or heading out for a game of tennis with Zion National Park as your backdrop can be an adventure all on its own.
Recommended Age: Any
Average Duration: 1-2 Hours
Unguided
The List of Things to Do in Zion National Park is Endless
Zion offers endless adventures for everyone no matter their age or adventure level and now, thanks to Zion Ponderosa's 'Things To Do in Zion National Park: Your Ultimate Guide', you know exactly what to do on your next trip to Zion! From taking in awe-inspiring views from a helicopter to a friendly round of mini golf with the family and everything in between, you and your whole group will never run out of activities in and around Zion National Park. If you have any questions about any of these activities or want to book somewhere to stay while you're experiencing Zion, contact us for more information and get started on your Zion adventures today.