It's no secret that Zion National Park can get crowded pretty quickly, especially during peak season, school breaks and holiday weekends. But there are a few things our Zion Ponderosa guests can do to beat the crowds!
1. Wake up early or arrive late. 
There are plenty of hikes and viewpoints that are accessible 24/7 in Zion National Park. Arriving at sunrise or sunset will provide beautiful conditions and way less people. 
2. Visit the east side of Zion National Park. 
Maybe we're biased here, but we think there are just as many gems to be discovered in East Zion as inside the park. Bonus: the east side of the park is less frequented, so you may be able to enjoy pieces of it all to yourself. 
3. Do your research. 
There's so much more to Zion than can be found on the park map from the visitor center. Researching the park and its different areas and hikes before you visit can make all the difference in finding spots that are off the beaten path or better visited during certain times of day. Of course, make sure to practice Leave No Trace, respect park regulations, and be aware of weather conditions before heading out. 
4. Apply for an Angels Landing permit.
Angels Landing is one of the most popular hikes in the park—and that's exactly why the chained section is now only hikable by permit. (Click here to obtain a permit through Zion National Park.) Missed the lottery or didn't get selected for one during your visit to Zion? No problem! We now offer guided hikes to the top of Angels Landing. We can also guide your hike if you were one of the lucky ones able to score a permit!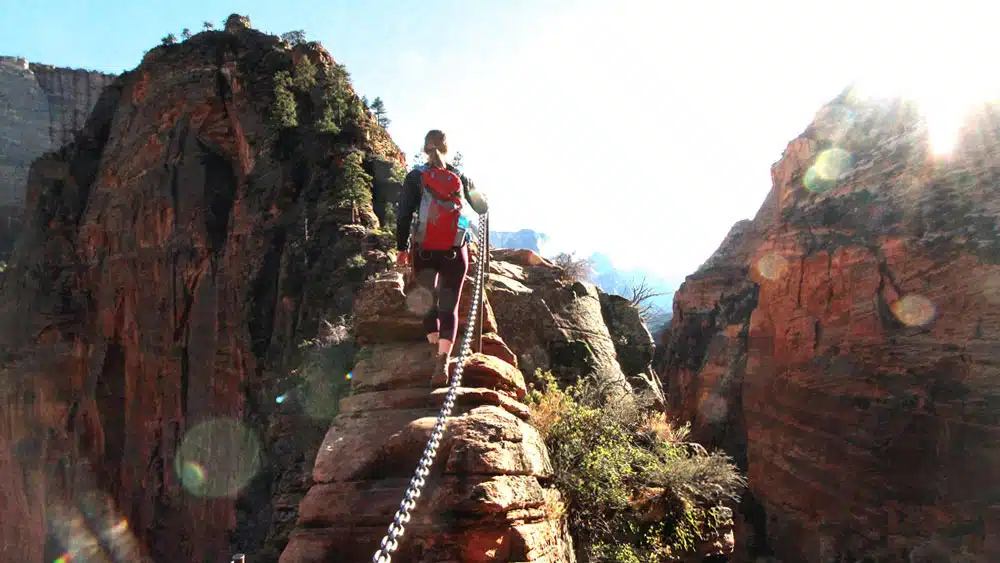 5. Hikes in Zion National Park that don't require a permit:
Observation Point:

​​Explore the stunning, yet lesser known trails to Observation Point.

Book our hiking shuttle for just $7

. 

Cable Mountain:

This hidden gem

leads to the historic cable draw works. Shuttle also available to this trailhead. 

Checkerboard Mesa:

Hiking trail and Jeep tour both available to this

iconic Zion viewpoint

exclusively from Zion Ponderosa property. 

Jolley Gulch:

Ask our staff about the

spooky history

behind this viewpoint. 

Canyon Overlook:

Easy 1-mile out-and-back trail with amazing views. 

Taylor Creek:

Easy to moderate hike in the Kolob area of Zion National Park.
6. Book a guided tour with East Zion Adventures.
The best way to beat the crowds is to head off the beaten path. At Zion Ponderosa, our on-property guide company can lead you on excursions to some of the best-kept hidden gems on the east side of Zion National Park. Our guided tours include Jeep tours, hiking and UTV adventures, canyoneering, and horseback riding into some of the most serene landscape on the east side of the park. Be sure to add one or more of these iconic adventures to your next Zion National Park getaway:
Jeep Tours:
Canyoneering:
Horseback Riding:
UTV adventures:
Be sure to ask any of our expert guides or rec staff how to maximize your time in Zion!