Tis the season for making memories. If this year has taught us anything, it's that time spent with loved ones is more precious than ever. So this winter, skip the stuff and gift an adventure or getaway that will create lifelong memories. Together or apart, your gift recipient will love these Zion experience gifts.
Stay with Zion Ponderosa, Play with East Zion Adventures
An epic gift needs an epic location – and you can't go wrong when you choose beautiful Zion as the backdrop for your winter experience gifts. As one of the top 6 adventure resorts in the U.S., Zion Ponderosa takes it up a notch with our very own adventure company right on property.
Our family-owned and operated business of 25 years is committed to giving you the perfect East Zion getaway with seven different types of lodging for every budget, ranging from camping and glamping to cabin suites and luxury vacation homes. Coupled with an adventure or two (or six!) through East Zion Adventures, and you have one unforgettable experience gift.
Family Fun: Experience Gifts for Everyone
From littles and teens all the way up to parents and grandparents, there's an adventure for everyone at Zion Ponderosa. No other resort or ranch in the Zion region has more on-property recreational activities, including zip lining, climbing wall, bungee trampoline, hiking, horseback riding, Jeep tours, swimming pool and more. We even offer not one but two virtual reality adventures for your reluctant adventurers – and we're pretty sure once they do this, they're going to want to get out and experience the real deal!
After a day of adventure, head back to your Zion National Park vacation home where the whole family can cook together in gourmet kitchens, grill on the porch overlooking the east Zion plateau, play games and just spend time together. Whether the extended family stays all under one roof or you choose a few smaller ones near each other, families love staying and playing together at Zion Ponderosa.
Be sure to check out the Zion Ponderosa Silver Anniversary offer, valid November 29, 2020 through March 11, 2021. Enjoy two nights in a Cabin Suite or Cowboy Cabin, plus breakfast and a Jeep tour for two people, at 50% off!  Vacation Home/Jeep Tour package deals available, too!
National Parks Annual Pass
If you're like us, you've spent more time outdoors this year than ever before. And if you've been to Zion, you know there are few places on the planet more breathtaking than America's national parks. The America the Beautiful pass allows entrance to more than 2000 national parks and monuments around the U.S. And with five national parks just in Utah (including three within driving distance of Zion Ponderosa!), it's ideal for those upcoming Utah staycations.
Roll into adventure
Two great options for families, friends, couples and extended family reunions: Jeep tours and UTV adventures.
East Zion Jeep Tours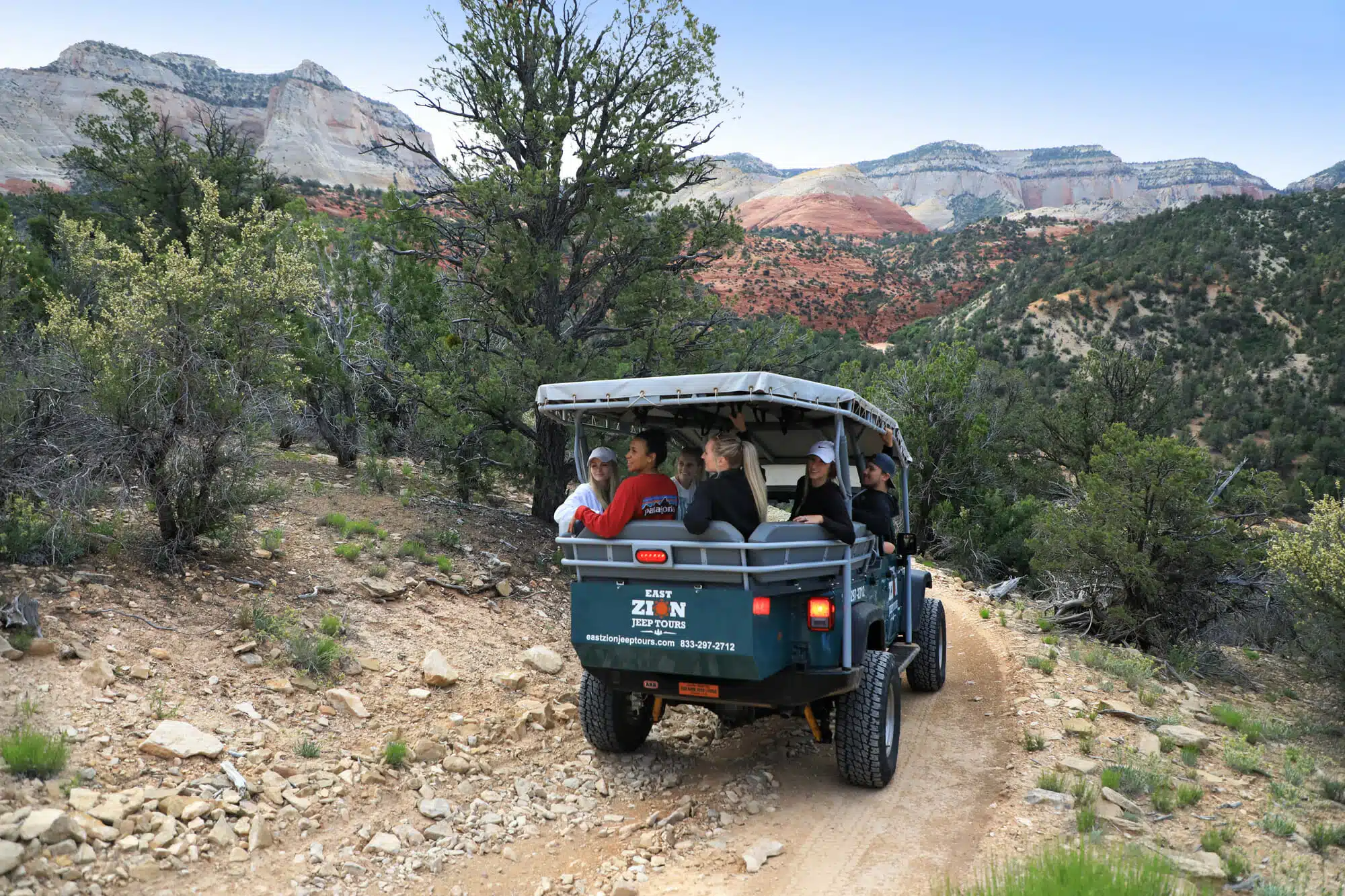 For winter, our guided jeep tours include blankets and heated seats, making them the perfect way to enjoy a chilly day in Zion! There are several unique jeep tours to choose from, all with amazing views and guides so all you have to do is sit back and enjoy the ride.
Slot Canyon UTV and Hiking Tour
The Crimson Canyon UTV and hiking tour is our newest adventure – and one that will give you the slot canyon experience of a lifetime, without requiring a single rappel! If you're looking for the perfect dose of adventure without having to harness up, this is the experience gift you want to give.
Book an East Zion UTV tour here.
Romantic Getaways for Adventure Lovers
Glamping, horseback riding and stargazing
Picture this: glamping under the stars, clip-clopping along the East Zion plateau on horseback, a leisurely hike to Observation Point for one of the most breathtaking views of Zion National Park. Cap it off with a cozy dinner at Ray's and a romantic sunset Jeep tour and this weekend getaway just became the best gift ever.
One of the most magical things about our location on the east plateau above Zion National Park's is our dark night sky. Snuggle up close with cozy blankets and hot cocoa, and enjoy the dark night sky twinkling like you've never seen it before. You may even catch a glimpse of the Milky Way. After a full day of adventuring in Zion, a stargazing tour is the perfect way to squeeze in just a little bit more magic.
Zion Adventure Gifts for Thrill-seekers
People come from around the world for Zion's cliffs and canyons. Our full-day canyoneering adventure features 10+ rappels and gorgeous scenery both inside the canyon and out. Being this deep in a slot canyon has a way of making you feel incredibly small, but also part of something incredibly grand. There's no better experience gift than a canyoneering adventure.
Friendly Escapes

A weekend in Zion is the best friends getaway you can take without a passport. Invite your besties for a weekend camping in the great outdoors (social distancing comes naturally here on our 4,000-acre ranch resort!) Or skip cluttering up your shared apartment space with more stuff and book a Conestoga Wagon with your roomies. Then head out for a day of adventure with a canyoneering experience or plan a hike together for a gift that will get them outdoors.
Bonus tip: Top hikes to Angels Landing, The Narrows or Observation Point are guaranteed to create memories to last a lifetime – as if the gift of friendship isn't enough!
Experience Gifts for Horse Lovers
Experienced equestrians and budding cowboys/cowgirls alike will love the gift of horseback ride through East Zion's forested plateau. Pony rides are ideal for horse-loving kiddos.
Together Time: The Best Experience Gift

Get away from the hustle and bustle of the holiday season and spend time with those who mean the most. Whether you're sitting around the fireplace in a vacation home while the snow softly falls outside or planning a summer glamping trip, a getaway is the type of experience gift that builds relationships and lasting memories.
Just a friendly reminder that if you're planning a Zion staycation for the holidays, make sure to plan ahead and book soon! All adventures and experiences are weather permitting.